MODEL EDITION

 
1. GET PLENTY OF SLEEP!

 
As we all may very well know staying up late causes bags, dark rings, puffiness, & red eyes. It also effects your mood, emotional & facial expressions along with body language. You're feeling overwhelmed, it looks like you are having a bad day & THE CAMERA CAN TELL! There aren't any photoshop actions that cover up hang overs or night owl syndrome. So please stay out of the bars the night before your photoshoot and get your sleep on sleeping beauties!
2. WATER IS YOUR BESTFRIEND! Drink Up!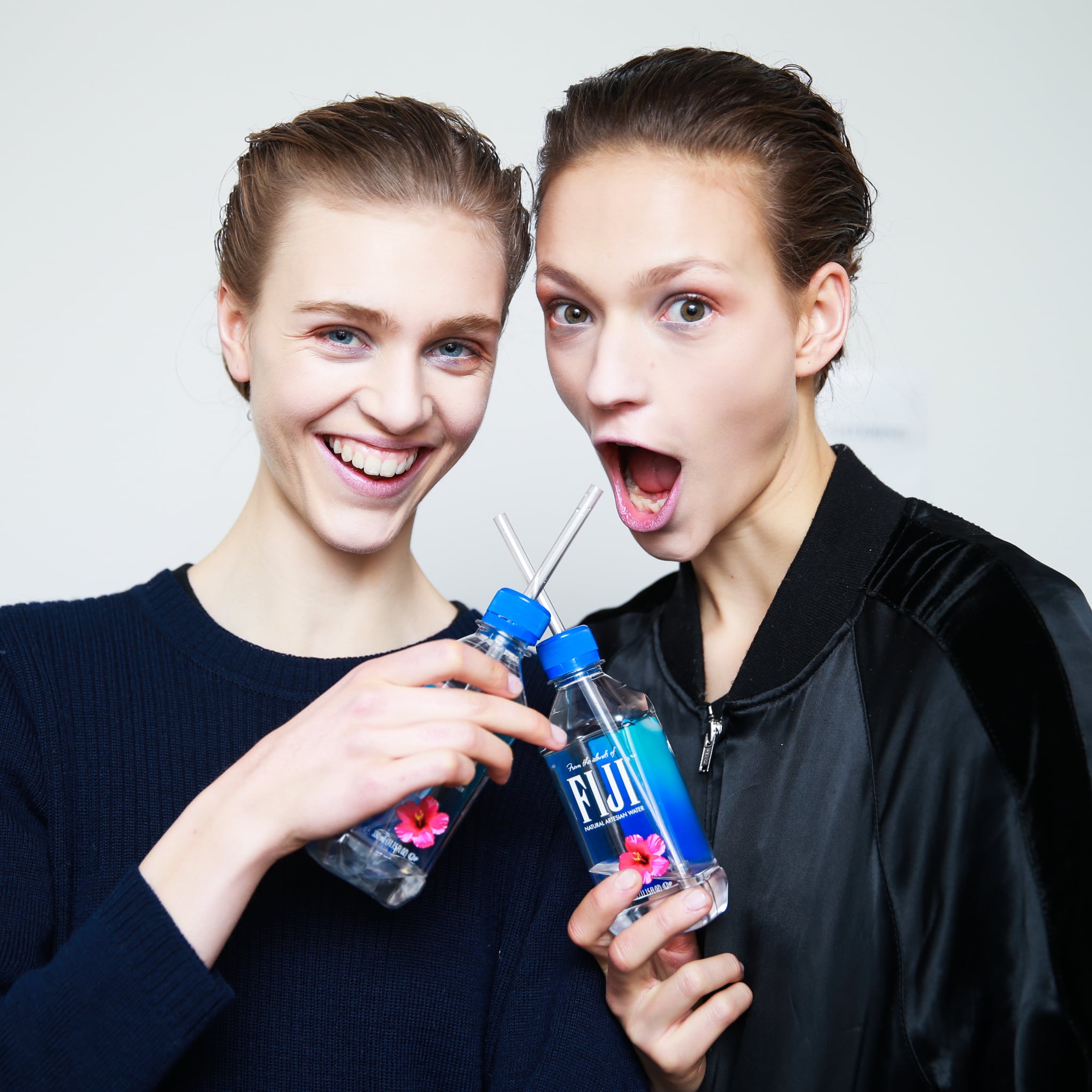 I highly recommend staying hydrated at all times, but especially in the world of modeling. Water brings life to not only flowers, but your skin as well; It brings on a healthier, livelier, less drained look to your skin. It also flushes out toxins, in case you rebelled against tip 1 and had a night of binge drinking at a local bar.
3. PLAN YOUR LOOKS A WEEK IN ADVANCE!
The worst thing you could do is waste time, when it comes to planning wardrobe it takes a lot of time. From trying on different looks and being sure they fit, aren't torn or wrinkled, and don't make you look misshapen; To being sure they go along with the theme of the shoot and are in place and ready to switch in and out of in a flash, You will thank yourself for having this mapped out in advance and save lots of time and money.
In some cases where you aren't in charge of wardrobe it is always great to have nude or black lingerie or one piece leotard to not clash with the wardrobe provided.
check out more fashion sets and trend forecast by @GladyzJetson
4. CHECK YOUR LIPS AND MAKE UP!
DO NOT FORGET YOUR LIP SOFTENER!!! Cocoa Butter, Shea Butter, Coconut Oil, Chap-stick, Vaseline all can help alleviate the above problem.This is another situation that can not be edited out and if so, it would take a lot of time and remember, post processing and editing + time can be costly! So save yourself the humiliation and money and keep those lips moisturized.
Also bring touch up make-up bag in case your artist is not available on set, there isnt a make up artist provided or if you  have to travel long distance in a car with no a/c either way the key to life is being prepared for unforeseen circumstances. You want to have everything you need for "just in case" sake. THINGS TO NOT FORGET: Nail Polish remover, Bobbie Pins, Clear nail polish, lip moisturizer, make up touch ups, tissue, make up removing pads and whatever else you feel is necessary. 
5. HYGIENE CHECK LIST!
Be sure to cover the basics shower, brush and whiten your teeth, clean your face (exfoliate, cleanse, tone, moisturize). NO DRY FACES. But also for my more hairier men and women DON'T FORGET TO SHAVE those hairy lips, chins, legs and chest if you are preparing for a beauty, fashion or editorial shoot. Hair is another post processing time consumer having to fix a guys hairline and a girls mustache can be extremely timely and can also make the photo look less realistic because of the edits. Also if you have sensitive skin it is better to get brows done 2 days before shoot to avoid redness and swelling, same for those getting laser hair treatments and waxing procedures. Shave underneath those arms just in case you happen to pose with your hands up.
Come with clean hair if you're expecting hair to be done before set, come with clean hair even if you did it yourself. COME WITH CLEAN HAIR because others will be adjusting and situating your hair and no one wants to deal with your flaky, greasy, smelly hair. I'm just saying. Also hair with beautiful sheen and texture always help boost portrait appeal.
Moisture is your best friend, use as much as you can. Oil your body down from head to toe not only does it assist with your ashy limbs, but it also adds that dramatic skin glow effect you see in magazine spreads and bathing suit ads. Your photographer will love you for that.
6. PRACTICE PRACTICE PRACTICE!
Practice poses and facial expressions in the mirror and with friends daily! If you are claiming the title "Model" this is something that should be apart of everyday life. Standing in the mirror and posing isnt weird, in fact it helps you look better when you pose for photos,  and helps you find your light and "your good side". Also toning up in the gym before a shoot is not a bad idea. Your posture and muscles will be on point and create better balance for those crazy poses.
7. PLAN FOR THE WORST & BE ON TIME!
We all know things happen, and something always gets in the way of plans. But the worst thing you could do is not communicate with the photo team and have them awaiting your arrival. LAST MINUTE CANCELLING IS THE DEVIL. If you feel sick send a message hours in advance, not 30 minutes before. Because chances are if you're professional you arrive an hour early to make room for trial and error; and there are people waiting on you with make up kits unloaded and lighting adjusted. Don't be that person that calls 30 minutes before.
And if you are running late and GPS clearly lets you know your estimated time of arrival, contact someone on the team and inform them of your late arrival. But CAREFUL this can ruin the whole happy tone of the environment and make your shoot seem rushed and unwelcoming.
8.  BRING A SNACK BAG!
When you're hungry you're not happy and no one wants to shoot with a frowning hungry diva. Sometimes its best to not eat before a photoshoot to avoid bloating and appearing larger than you are. But its some cases where you will be at a shoot for hours working on an empty stomach, NOT GOOD. So to avoid the frown in your photos pack a light snack bag and a couple of waters to keep you satisfied until the shoot is over.
9. PREPARE TO TAKE DIRECTIONS & EMOTE!
We all want to be leaders in our own little way, but in this case the photographer is your leader and you must bend curve turn and tilt in the direction of their lens. Come with a clear mind. Leave all the drama and weight of the world at home; this is your chance to escape it. Don't let the lens see you sweat. Unless of course pain and sadness is the emotional theme of the shoot. Be ready and mentally able to be directed to "Smize" and be adjusted by the hands of other creative directors and stylist. For some this is overwhelming when you are on the brink of a break up and want to be left alone. So be PRESENT. Have open ears and LISTEN!
Do not show up camera shy and nervous, it makes you look awkwardly uncomfortable in your portraits. Which is why I said to practice practice practice before you show up.
10. TAKE A DEEP BREATH, EXHALE, & POSE!
Close your eyes, inhale and exhale right before your pose. This helps you decrease the nervous anxiety filled stress face and stay focused on what you've practiced in the mirror. Another trick that helps relax your face is relaxing your tongue muscle allowing it to rest at the roof of your mouth; This helps avoid those weird facial expressions and mouth poses. You could also google facial exercises to help loosen up your face. Because ultimately YOU are in charge of the outcome of your photos, the camera doesn't lie and it's not the photographers fault. Sorry those Snapchat filters fooled you but this is real life photography.
It takes a lot of time and money to edit pictures based on little simple flaws that could be corrected before the shoot. Save yourself and your photographer a lot of time by touching these bases and you will develop a good relationship with your photographer and be recognized as a professional in the industry.
I hope this post helps you on your next photoshoot! Like, Comment, Share!
#LustrePRO